The Food Standards Australia New Zealand (FSANZ) has issued a notification on the recall of Honest to Goodness' Organic Wheat Free Quick Oats from Finland which contained undeclared allergen (gluten).

2 As a precautionary measure, SFA has directed the importer, Little Farms Pte Ltd, to recall the implicated products, due to detection of gluten despite claims on the product packaging indicating that the product was gluten-free. The importer has stopped the sale of the implicated products.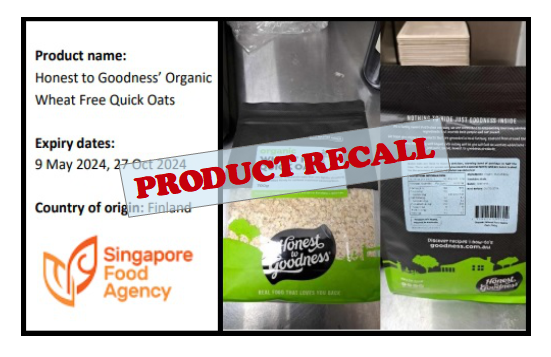 3 Under Singapore's Food Regulations, the use of false or misleading claims on prepacked food products which do not reflect the true nature of their contents are prohibited.

4 Gluten is a type of protein naturally found in wheat and other grains. Gluten does not pose a food safety issue to consumers at large, except for those who are intolerant of or allergic to gluten. Consumers who have purchased the implicated products, and who are intolerant of or allergic to gluten, should not consume them.

Those who are intolerant of or allergic to gluten and have consumed the implicated products should seek medical advice if they have concerns about their health. Consumers may contact their point of purchase for enquiries.
Issued by SFA
23 Aug 2023