The Singapore Food Agency (SFA) is conducting a recall for two food products.

The products are:
i. Palm Seed Buah Kabong (500g)
ii. Kiwigarden's Greek Style Yoghurt Drops and Whole Blueberries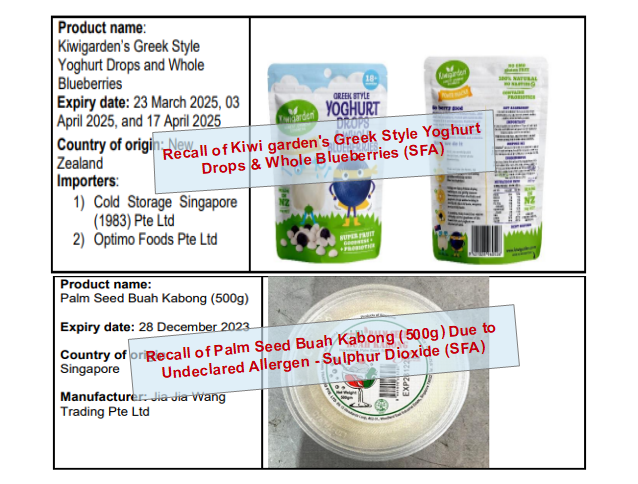 2 SFA has detected sulphur dioxide, an undeclared allergen, in Palm Seed Buah Kabong (500g).

Under Singapore's Food Regulations, food products containing ingredients that are known to cause hypersensitivity must be declared on food packaging labels to safeguard public health. All ingredients in prepacked food should also be specified on the product label in descending order of the proportions
by weight in which they are present.
3 Separately, SFA was informed by New Zealand Food Safety on a consumer level recall of Kiwigarden's Greek Style Yoghurt Drops & Whole Blueberries due to the size of blueberry pieces which could pose a choking hazard for infants below 18 months, for which the product is targeted at.
4 As a precautionary measure, SFA has directed the respective manufacturer and importers of the products to recall them. The recalls are ongoing.
5 Consumers who have purchased the implicated products and have concerns about their health should not consume it. Consumers may contact their point of purchase for enquiries.
Issued by the Singapore Food Agency
1 August 2023